As you can make out from the title of this post, there was a lot that happened today. But since this is still the initial phase of the semester, things are pretty relaxed. Also one thing to note is that being children, reasons for not coming to class would be like "He's out station", "He's not well" and the likes. However for an Executive Course the reasons are quite different. Reasons like "He's in a meeting", "He's blessed with a baby" and so on. So you see how the scenarios change over time. Anyways, getting back to how Day 27 of Executive PGDM at NMIMS, Hyderabad was, keep reading.
Kicked off with Marketing
The day started with Marketing session. We had a quick recap of what we learnt in the last class - different between Sales and Marketing, 4Ps of Marketing. Post that we saw a quick video on Southwest Airlines - realised that this is a pretty solid and most renowned case study. Post that we learnt about Marketing Transactions and it's formula. Well yes, there's a formula to it too. It's like 5C+STP+4P which translates to the following image.
5C + STP + 4P. Image Courtesy: Slideshare
Cost Sheet in Managerial Accounting
Again a recap of all that happened in the last class. Learnt about the various costs: Fixed, Variable, Direct, Indirect, Opportunity, Sunk, Differential and many more. We also saw how various graphs of Variable Costs and Fixed Costs work out. We did spend some time in solving a numerical and arriving at a cost sheet. Learnt about Prime Costs, Work Costs, Factory Costs, Admin Costs and Selling and Distribution Costs. I hope to spend some time on this and understand the concepts.
Strategy overshadowed by Federer
The first thing we started with was a case study about IKEA. And I'm so sad to say that the guy whom we spoke about - Ingvar Kamprad - just passed away after class :( Read more. We were told to look up for our own organisation's Mission and Vision Statement. We re-iterated the famous Porter's 5 Forces Model. While this was going on, I was glued to my mobile's screen as Federer lost a couple of crucial points in the 4th set which resulted in a 5 set match. But what followed was pure class. Federer royally outplayed Cilic in the fifth set to regain the Australian Open. Perfect Inspiration.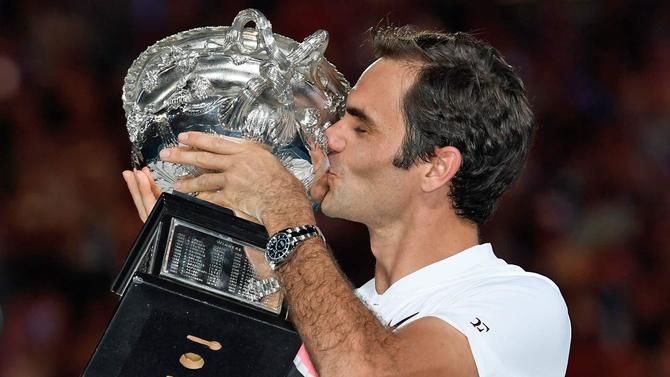 Federer with his 20th Grand Slam Trophy. Courtesy: CBSports
So that's it about today. I'll catch up with the highlights of the match as I missed a good part of it. So see you guys in the next class. Till then, do what you love !
Day 27: Marketing, Accounting, Federer and Strategy
Reviewed by
The Executive
on
January 28, 2018
Rating: